Family-Friendly Home With Colorful Personality
To create the ideal home for a family of six, designer Jodi Morton of 2to5 Design drew on elements that reflected the family's colorful style. Thus, the home is infused with various blues and includes inspirational quotes, as well as a chalk wall in the playroom.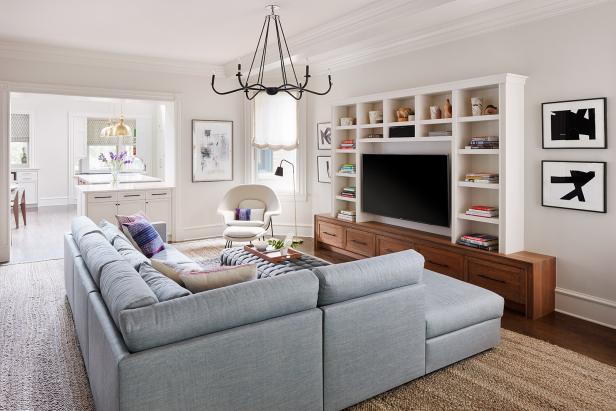 White Transitional Family Room With Sectional
This friendly family room was designed with everyone in mind: The large, custom-made sectional perfectly fits this family of six and the built-in entertainment unit houses toys in the drawers and books and objects on the shelves. Womb chair: DWR; Crane floor lamp: CB2; Spider chandelier: Cisco Brothers
What did your client want for the redesign of their home?
The client wanted a unique space that was comfortable and livable for her family of six. It was important that every room be family-friendly and that her kids could comfortably use each space, with nothing off limits or too stuffy. They are a down-to-earth family and wanted a home that reflected their personality.
How did you make the home more family friendly?
White Transitional Mudroom With Purple Pillow
This mudroom needed to be expansive enough to accommodate a family of six so the designers included tons of cubbies, a large closet, powder room and even a sink! Rug: Oscar Isberian; Pillow: Jayson Home
The home was first gutted and then re-designed by Morgante Wilson Architects. They created a more open flow on the first floor; a second-floor master suite including a home office; and a kids' zone on the third floor complete with bedrooms, bathrooms, a laundry area and an attic playspace.
Every detail in the home was designed for their specific needs as a busy family: two laundry zones, two dishwashers, a sink by the back door for washing hands, lots of stain-repellant fabrics, etc. We measured the clients' boot height and Tupperware containers to make sure all items fit in their respective spaces.
What was your biggest obstacle during this project?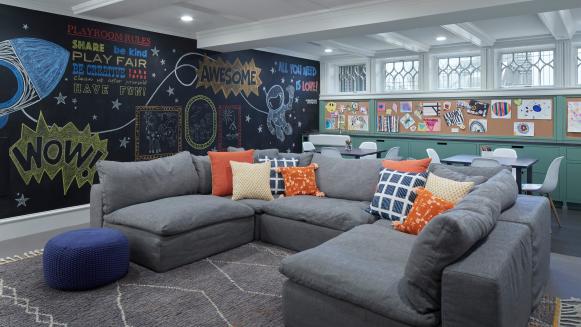 Transitional Basement Playroom With Chalkboard Wall
This playroom wins serious style points! The sofa uses perennials fabric for ultimate durability and has a soft frame so kids can climb and jump on it. The back of the room has built-in cabinetry for art supplies and a sink to wash brushes and messy hands. Colorful pillows keep the mood fun and light. Sofa: Restoration Hardware Cloud Sectional; Pillows: CB2
Our challenge was to make the home feel unique and special. Our client had many friends going through renovations at the same time and she didn't want the same materials and finishes she was seeing everywhere else. She wanted to find her own unique design personality. We looked at a lot of inspiration images and materials until we found the perfect blend of rustic and modern, traditional and classic.
What inspired the unique style of this home?
When designing this home, we were inspired by images of light, happy spaces that had a nice blend of contemporary and classic. The home already had beautiful original moldings and details that we wanted to highlight, but we didn't want it to feel too period-specific, so we married those details with more contemporary elements like concrete tiles in graphic patterns and bold colors.
How did you create seamless room transitions?
We kept the overall palette of the home neutral, using an off-white custom color from Benjamin Moore. The walls and trim are almost the same color, giving the traditional details a more contemporary feel. We then popped out accent colors to create more dramatic elements, such as the moody dining room. Every room has a bit of blue in it.
How did you choose which colors to use?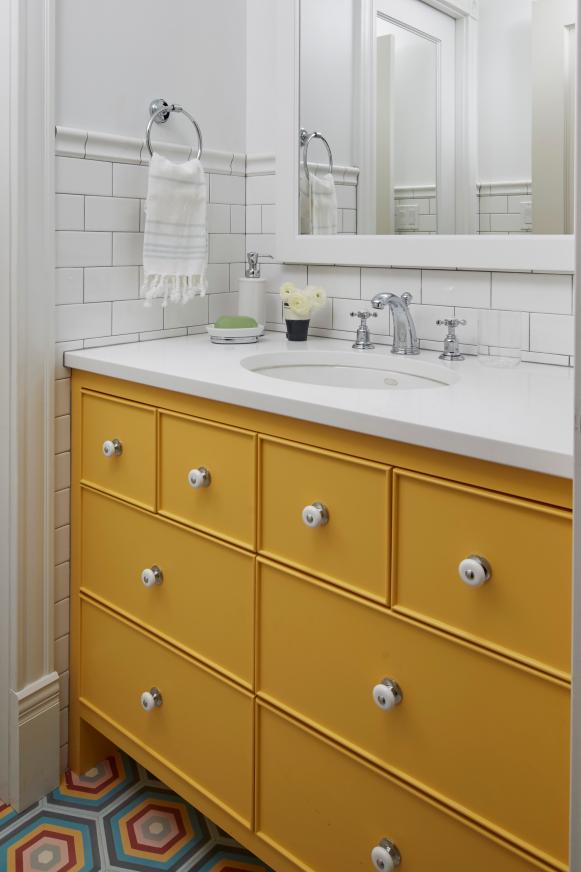 Multicolored Girl's Bathroom With Yellow Vanity
Pops of bright color add whimsy to this girl's bathroom and make it feel fresh and young. The designer mixes graphic concrete floor tiles with a budget-friendly white subway tile backsplash. Custom cabinets provide ample storage. Floor tiles: Popham Design
We used the same color in the main living spaces and hallways of the home. We tried lots of neutrals until we found the perfect shade. We went a bit deeper in the spaces that could handle more drama, such as the dining room and the master bedroom.
We let the bold colors of the concrete tiles and cabinetry in the kids' bath speak for themselves and kept the walls white.
What was your favorite space to design?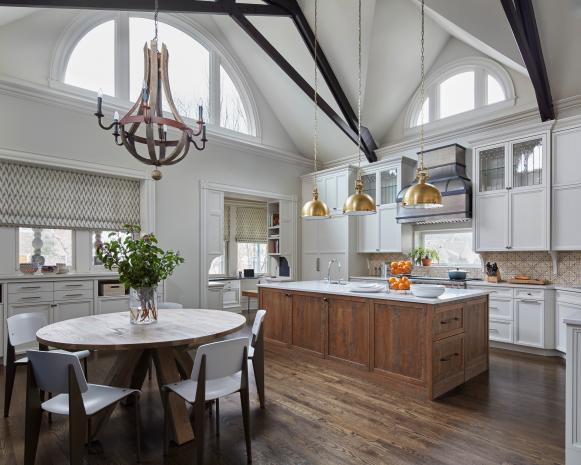 White Country Kitchen With Vaulted Ceiling
To make this oversized space feel comfortable for a large family, the designers combined earthy materials like reclaimed wood and handmade terracotta tiles with more traditional elements like the white painted cabinets. The Silestone counters were selected with durability in mind and the cabinets were customized to the specific needs of the homeowners. Fixtures: Circa Lighting; Prouve dining chairs: DWR
My favorite space to design in the home was the kitchen. The scale is so unique for a city home and I love how the rustic, modern and traditional elements all play together, creating a more refined eclecticism.
In many ways, the kitchen was also the most difficult to design because it can be seen from every room on the first floor. It needed to work with multiple elements from different spaces.
Is there a particular element repeated throughout?
Blue, the client's favorite color, is repeated throughout the home in various shades and tones. We used a lot of texture in the home, lending the space a sense of relaxed luxury. From the linen on the sofas and in the Roman shades to natural wood surfaces, wool rugs and concrete tiles, all the materials have an earthy quality that adds warmth and comfort to the home.
What is your favorite room?
My favorite room in the house is the living room. It is a perfect, eclectic blend of furniture, artifacts and art, and the family spends most of their time here. I also love the large chalkboard wall in the basement playroom. It's a great canvas for kids and acts like a rotating gallery wall.
What inspired the custom furniture and wallpaper?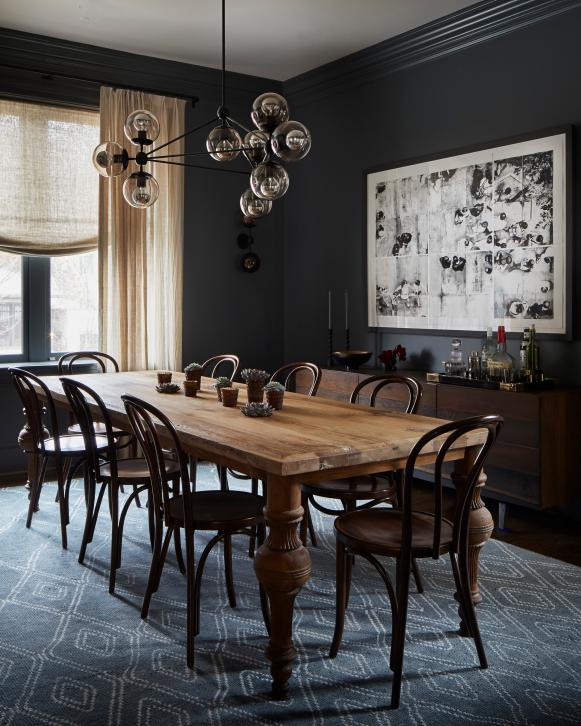 Blue Contemporary Dining Room With Wood Table
To create this eclectic, dramatic dining room, the designers combined dark colors, warm woods and modern lighting. The simple, country feel of the table and chairs lightens the moodiness of the midnight blue walls.
We love designing custom pieces for our clients when we can't find the scale or silhouette we're looking for. Their family room sectional borrowed a combination of different elements we liked from a few other sofas we had seen. The carpenter who made the dining table found the salvaged legs, and when we saw them, we knew they would make the foundation for a beautiful dining table. The client loves quotes and had been collecting her family's favorites for a long time. We were originally going to create a custom wallpaper with the quotes for the mudroom powder room, but felt the large expanse of wall near the back stairs was the perfect canvas for this impressive word wall.
How did you integrate your personal style?
Our work is best described as relaxed luxury. We love to create spaces that are meant to be enjoyed and lived in, not just admired. The rooms are attainable and approachable, but with an eye toward high-end materials. We love Moroccan rugs and vintage end tables and use them in many of our projects to create warmth underfoot and add patina to new houses.
What "hidden gems" are in your design?
In most spaces the trim and walls are painted the same color, which creates a nice cohesive feel to the home and showcases the moldings without making the space feel too traditional.